Allergy
Self-Tests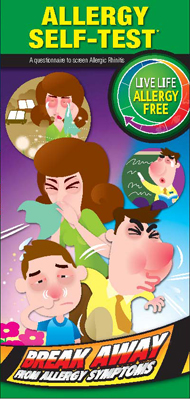 Allergy Self Test : A Questionnaire To Screen Allergic Rhinitis
Live Life Allergy Free
Break Away From Allergy Symptoms
What are allergies?
An allergy is a condition in which your body's immune system overreacts to normally harmless substances. These substances are called "allergens". When you come into contact with allergens, your body responds by releasing a chemical called "histamine", which leads to those uncomfortable allergy symptoms. Upper respiratory allergies are characterized by runny nose, itching of the nose or throat, sneezing, and itchy, watery eyes.
Allergic Rhinitis (AR) is classified
• Seasonal Allergic Rhinitis
• Perennial Allergic Rhinitis
Allergy Self-Test
A questionnaire to screen AR
Are your nose and eyes telling you something?
Do you have AR?
Test Yourself!
Talk To Your Health Care Professional Now!
A community health message brought to you by
Malaysian Society of Allergy and Immunology
Malaysian Society of Otorhinolaryngologists Head & Neck Surgeons (MSO-HNS)
Please download the full document below:
Download Allergy Self Test leaflet (English)
Download Allergy Self Test leaflet (Bahasa Melayu)
Download Allergy Self Test leaflet (Chinese)