Guideline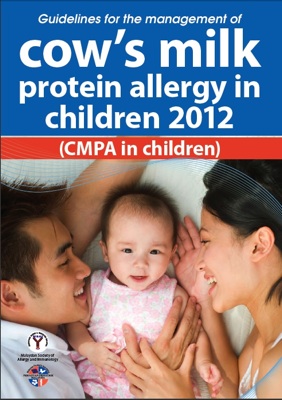 Guidelines for the management of cow's milk protein allergy in children 2012
06-09-2012
Terms of Reference
Target audience:
This guideline aims to cater mainly for paediatricians, primary care physicians and other frontline healthcare providers involved in providing care for children.
Format:
This guideline consists of easy-to-read information with appropriate flow charts. All facts are evidence-based as far as possible. Where evidence is not currently available, the combined and consensus opinion of the members with adequate consultation with senior colleagues prevailed.
1. The full guidelines on the management of cow's milk protein allergy may be obtained from the following websites:
Malaysian Paediatric Association (MPA) http://www.mpaweb.org.my
Malaysian Society of Allergy and Immunology (MSAI) http://www.allergymsai.org
Danone Dumex (Malaysia) Sdn Bhd http://www.dumex.com.my
Please note the Guidelines can be downloaded as a PDF file further below on this page.
2. A pocket reference guide which is a summary of the recommendations for the management of cow's milk protein allergy may be obtained from MPA, MSAI or Danone Dumex (Malaysia) Sdn Bhd.
Content:
The committee members had the sole right to determine the content of the suggested guidelines. The sponsor did not influence the content of this publication at any time and in any way.
Disclosure:
No conflict of interest declared by any of the committee members.
Source of funding:
This guideline was made possible by an unrestricted educational grant from Danone Dumex (Malaysia) Sdn Bhd.
Disclaimer:
The content and recommendations made in this guideline is based solely on currently available scientific evidence and/or best clinical practice. The committee recognises the scarcity of published/available local data and the impact it might have on the recommendations made within this guideline. Healthcare professionals are encouraged to exercise their discretion when utilising the information contained within this guideline in their clinical practice.
Copyright ownership:
Copyright of this publication remains with MPA and MSAI. No part of this publication may be reproduced in any form without prior written permission from the authors.
Please download the full document below
Download Guidelines for the management of cow's milk protein allergy in Children 2012